The Most Fascinating Thing about Being Engaged so far is what I like to refer to as The Examination Of The Ring. You know, when people hear you Got Engaged and then they say, "Hey! Let's see The Ring!" And then they do either One of Two Things:
1. Look at The Ring real quickly and say, "It's Beautiful!"
Or
2. Look at The Ring, Examine It Very Closely, and declare, "It's A Ring!"
I find The Examination Of The Ring somewhere between Incredibly Exciting and Incredibly Rude.
The First Week I was Engaged, I wasn't even Wearing The Ring. When Totally Awesome Fiancé picked it out, he had to Guess On The Size. So, he Snuck Into My Jewelry Box and picked out Several Rings and measured them. Trouble is, I Never Wear Rings. The Rings that Totally Awesome Fiancé found in My Jewelry Box had all been given to me by My MOM. None of them Fit, and I Didn't Care because I Never Wore Them. But, Totally Awesome Fiancé didn't Know They Didn't Fit and had The Ring sized Too Large. Well, at least The Ring would fit My MOM's Fingers perfectly. You know, incase Totally Awesome Fiancé goes all Oedipus-In-Law on me. We needed to have The Ring resized, but with all That Funeral Stuff going on, we didn't really have time.
This meant, however, that every time I mentioned to someone, "I Got Engaged!"" I had No Ring To Produce. "I Swear!!! I have A Ring!!!" I pleaded. But, whomever I was speaking to would Lose All Interest. Without A Ring Ready, I had No Proof Of To-Be-Weddy.
"We need to get The Ring Resized!!!!!" I begged Totally Awesome Fiancé. "They all think I Am mistaking Engaged To Be Married with Engaged And Disparaged! I MUST PRODUCE A RING!!"
Eventually, we had The Ring made to Fit and now I can Wear It. All those Naysayers are now Say-Yayers! Well, at least Half are anyway.
One Woman I Work With last week asked to see The Ring. "Ohhh," she said. "It's So Dainty!"
Dainty?
DAINTY
??!! I think she meant Small. Sort of The Way Real Estate Agents refer to Tiny Bathrooms as Charming.
Listen, I know My Ring is not Large compared to Posh Spice's Sparkler. But, Size Doesn't Matter to me, my friends. My Engagement Ring is a Treasure from A Man Who Loves Me Very Much. I still can't believe that Totally Awesome Fiancé was So Thoughtful to have Secretly Picked it Out and Presented It to Me!!!! I think it is The Nicest Thing I Have Even Owned in my entire life! Well, aside from That Marc Jacobs Dress I wore to Thanksgiving Dinner last year.
Wow. I forgot about That Dress. I can wear it on New Years!
Well, that is as long as it is Not Too
Dainty
. I think I may have gone Up A Dress Size.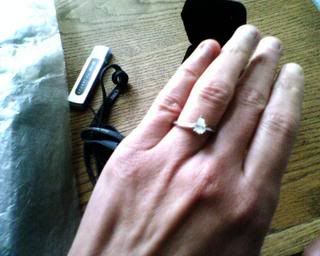 You will die in seven days.