I am Happy to Report, The Daily Randi had A Lovely Weekend! I spent almost all of it with Totally Awesome Boyfriend and, as usual, we had A Ton Of Stuff on Our Agenda!
• On Friday Night, I made Dinner for Totally Awesome Boyfriend! I cooked up these Turkey and Cheddar Cheese Burgers from some Rachel Ray Cookbook

The Cookbook I used!
I recently picked up. I greatly enjoy That Rachel Ray, by the way. I know, She Can Be Annoying. And she is Friends With Oprah, who can also Be Annoying. And I once met someone who used to work on one of Rachel Ray's Shows and she told me that Rachel Ray was A Total Bitch and she would Complain that All The Food She Had To Eat was Making Her Fat and she would Spit It All Out after each take and then Demand Breath Mints. But, I digress. Her Turkey Burger Recipe was Fabulous.
• Totally Awesome Boyfriend and I watched one of my All Time Favorite Halloween Movies,
Devil Dog: Hound Of Hell
.

The Movie!
They used to show it on Channel 11, back east, every year on Halloween Night! Of course, I had it in My Netflix Queue. It is about A Dog that is
Possessed By The Devil
and tries to do Horrible Things like
Make Its Owner Stick His Hand In The Lawnmower
! And
Encourage The Teenage Son To Lie To Win Class President
and
Cheat At Ping Pong With His Sister
! The Best Part of The Movie is it All Takes Place In Encino, so it is like Happening Right Over The Hill! As a kid, I didn't make The Encino Connection, of course. But, that is what is Fun about living in Los Angeles: When you watch Old TV Shows and Movies from your youth, you realize it was All Filmed In The Valley! Or, in Culver City! But, circa 1979!
Devil Dog: Hound Of Hell
was filmed on Firmament Street because they showed The Street Sign in one scene. Totally Awesome Boyfriend and I loved The Movie so much, we are planning A
Devil Dog: Hound Of Hell
Walking Tour, where we will we walk around The Devil Dog's Old Haunts, while we nosh on Actual Delicious Devil Dogs. (The Snack Cake, not The Animal.)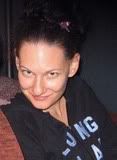 This is Me, after the movie was finished, Plotting Our Devil Dog:Hound Of Hell Walking Tour!
• We Carved Our Pumpkins!! I think we did A Very Awesome Job. I made Delicious Toasted Pumpkin Seeds and we Devoured Lots Of Candy. Then, Totally Awesome Boyfriend drank Lots Of Tequila with his Mexican Neighbors and devoured Me.
Our Halloween Pumpkins! Mine is The Smaller, Orange One and Totally Awesome Boyfriend carved The Big One and The Spider One!
• I took Totally Awesome Boyfriend to the Spider Pavillion, down at the Museum of Natural History! Totally Awesome Boyfriend loves Spiders and when I told him that we were going to see Spiders in Their Natural Habitats, he didn't know what to Expect. But, what he got was A Garden Full Of Exotic Spiders! He Loved It and took Lots Of Really Cool Pictures.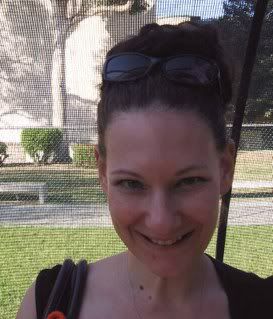 This is Me with A Scary Spider Dangling Over My Head! (But, it is Hard to See Said Scary Spider.)
• We went for Chinese Food in China Town and Totally Awesome Boyfriend threw Chinese Fireworks at my feet. Then, I threw them at His Feet and he pretended to be Tap Dancing.

Chinese Food!
And now, for your Viewing/Halloween Pleasure, I present A Spooky Slideshow Of Pictures That Totally Awesome Boyfriend Took Of The Spiders in A Spooky Jack O'Lantern. Enjoy!