Yes, I had A Fabulous Valentine's Day! Totally Awesome Boyfriend made me Dinner and had it All Ready for me, when I came home from My Late Rehearsal! He gave me The Cutest Pairs Of Pajama Bottoms (A Clothing Staple of mine!) and I gave him A Gift Certificate for A Premium Shave! Then we ate Lots Of Candy. If you Catch My Drift...
Totally Awesome Boyfriend likes to Draw Cartoons. He did This One for me on The Side Of A Styrofoam Box Full Of Leftover Pub Food, during The Baseball Playoffs, back in October. I saved it because I Loved It. I meant to post it Yesterday, in honor of Valentine's Day, but I Forgot. But, Better Late than Never!
Happy Day After Valentine's Day, Everyone!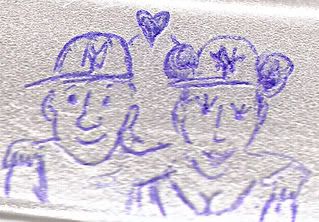 TAB and I in Love.