This weekend, I was Very Excited for Thanksgiving!
Wednesday Night, I could hardly Sleep! I even woke Totally Awesome Boyfriend up in The Middle Of The Night and announced, "It's Thanksgiving!" Then, of course, I went right back to sleep. The next morning, Totally Awesome Boyfriend and I woke up Early to go for A Nice Long Thanksgiving Morning Run! He is A Marathon Runner so he knows Exactly What Route To Take and How Far We Are Running. We have only gone Running Together once before, and he complained I Talked Too Much. So, this time I had My iPod Nano all ready to go and I just Followed Him. He took me all the way down to The Beach and to Venice and Up and Down Stairs and Over Piers and Stuff! Even though he was Far Ahead Of Me, I just kept Running! He kept Checking Back to make sure I Was Okay. Afterwards, he bought me A Delicious Thanksgiving Morning Latte and told me that we had run Over Six Miles! Wow! Of course, later that afternoon, I Couldn't Walk and My Right Knee Was Shot. But, I was still Really Proud Of Myself! Totally Awesome Boyfriend told me He Was Really Proud Of Me, too.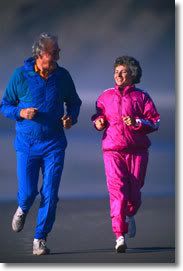 This will be Us when we are 80!
Thanksgiving Dinner was Fun! I spent it with Totally Awesome Boyfriend's Sister, who lives here in Los Angeles. And The Food was Delicious. And I met Totally Awesome Boyfriend's Extended Family for The First Time. Which was, well, it was Very Nice. But also, somewhat Stressful. I had No Idea this was going to Be Such An Anxiety Provoking Situation. I have never been in A Relationship where I was deemed Important Enough to Meet The Family before! I Stammered and Jumbled My Words and couldn't get Complete Thoughts Across, which is something I do when I Am Very Very Nervous. Totally Awesome Boyfriend assured me that They All Loved Me. But, I felt like A Mess. At least, My Thanksgiving Turkey Clothespin Craft was A Huge Thanksgiving Hit!
Thanskgiving Turkey, R.I.P.
Friday, Totally Awesome Boyfriend invited me to Spend The Day With His Family. They wanted to Go Shopping, on The Third Street Promenade, which is usually Right Up My Alley!
This is A Photo of The Mall. But, it being Black Friday, it was Way More Busier than This.
Unfortunately, My Knee was Killing Me. Totally Awesome Boyfriend was Totally Awesome and took me home Early From The Mall (!!!!!!) and His Family and made me Elevate My Leg and Ice My Knee. That night, we all went out for Sushi! I was Excited because Totally Awesome Boyfriend Hates Sushi and will Never Eat It With Me. Yet now he was being Forced To Go Out For Sushi By His Family, anyhow!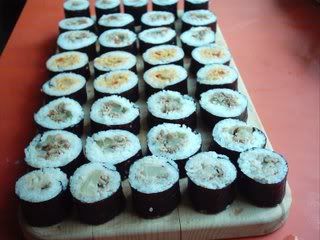 Score:
Sushi: 1
Totally Awesome Boyfriend: 0
Sushi Wins!!
Then we came home and watched a DVD of
Rollergirls
, which was this Reality Series on A&E last year. We were excited to Watch It because we had such A Fun Time at The Roller Derby Game a few weeks ago. But, The Show was kind of Boring and we ended up Shutting It Off and Going To Sleep.
This is Cha-Cha. She was My Favorite because she was always Drunk.
Saturday, I Iced and Elevated My Knee and watched Hours Of Television at Totally Awesome Boyfriend's House while he Ran Errands. I saw Three Back To Back Episodes of
My Super Sweet Sixteen
on MTV before switching channels and watching Back To Back Episodes of My Current Favorite Show,
Whose Wedding Is It Anyway?
Dem Brides Is Craaaaaaaazy! I don't know why some of them even bother to Hire A Wedding Planner when they clearly think They Know Everything! God, I can watch this show for Hours. I used to be addicted to
A Wedding Story
on TLC, too.

At least it doesn't Make Me Cry like The New York Times Wedding Pages!
Saturday Night, My Knee was feeling Much Better! Totally Awesome Boyfriend and I attended
A Big Art Opening at MOCA
, in downtown Los Angeles. I am A MOCA Member, mostly because They Throw The Best Opening Night Parties. This show is all about Fashion and Architecture, so there were a lot of Models Of Crazy Things – Buildings
and
Humans. The Best Part was I spotted Nick, from
Project Runway
, Season Two! I was So Excited!! Totally Awesome Boyfriend would Never Admit It, but he was kind of Excited About The Sighting, too. Afterwards, as we were riding in The Elevator towards our parked car, An Artsy Gay Fashion Type Man turned to me and said, "You were One Of The Most Fashionable People at the show. I Noticed you at The Very Beginning." I was Extremely Flattered, especially considering The Opening Was Full Of People Who Were All Trying To Be Very Fashion- Forward. And also, because I had Just Thrown On Something Fast.
Nick from Project Runway!
Alas, Sunday meant The Big Thanksgiving Weekend was Over. After we did The New York Times Crossword Puzzle, Totally Awesome Boyfriend went off to enjoy some time with His Family, sans his Adoring, Fashionable Girlfriend. Even though I was Happy to have Some Time To Myself, I Missed Him Terribly as soon as he left.
And now, for your Viewing Pleasure, I present to you A Slide Show Review of My The Daily Randi Thanksgiving Weekend, as if it took place In A Disco. As usual, Please Enjoy.