A lot has been made recently of Katie Holmes, seemingly 12 Months Pregnant and spending her days Perusing The Shoe Department at Barneys New York. People seem to think that visiting Barneys New York and Walking Around, Looking At Shoes is An Odd Behavior that could only be attributed to A Fantastic Series Of Brain Washing Sessions arranged by Crazy, Couch-Hopping, Scient-Ilogical Tom Cruise.
Well, I am here to tell you, Katie, I Have Your Back! I do The Same Exact Thing all the time and there is Nothing Crazy About Me! In fact, Driving To Beverly Hills and Walking Around Barneys is one of My Absolute Favorite Past Times! They have An Excellent Shoe Department and I Love To Purchase Shoes! Well, I Just Pretend Like I Am Going To Purchase The Shoes. I can't really afford Their Fabulous Footwear. After all, I'm A Girl who can now claim Canned Hearts of Palm With Ketchup as A Favorite Dinner. But, it costs nothing Just to Look. Well, it costs, like $3.50 to Valet One's Car and you Kind Of Have To because there is really No Where Else To Park In Beverly Hills. But, if you Sweet Talk The Handsome Host in The Restaurant on The Top Floor, you can sometimes get A Free Valet Parking Stamp. While you are in The Restaurant, you might as well sit down and have A Glass Of Delicious Champagne. And Lunch. And, um, after that, you can Go Down Two Floors and see what Marc Jacobs is Marked Down. Then, when you see That Brand New Ella Moss Tee that you Covet For Summer, you should really Get It because it Is So Flattering and you can just put it on Your Barneys New York Charge Card. After all, you did just snag Free Parking, so it is like the T-Shirt is Only $94.50 And Not $98.00! But, then you Really Have To Go before you foolishly purchase Anything Else, so you head Downstairs. Except, just as you are leaving, you remember, "Hey! I can walk to Saks from here!" So, you head on over to Saks and you see Those Juicy Couture Arm Warmers that you Wanted So Badly On EBay Two Months Ago and Nearly Bid On, so you Buy Those and think, "I Must Get Out Of Here!' But, not before you are distracted by That Sale Rack Of Shoes, right by The Exit Doors. And sure enough, they have Those Via Spiga Strappy Sandals you saw at Nordstrom's! So, you Try Them On, even though you have Already Tried Them On at Nordstroms on Two Consecutive Visits, and the last time, you even Put Them On Hold but then just Never Came Back To Buy Them because you knew that if you did Buy Them, you would just Return Them The Next Day with All The Rest Of The Stuff You Foolishly Purchased That Afternoon because That Is What You Do! You Go Out, Go Shopping, Go Home. And then you Go Bulimic and Spit It All Out The Next Day in the form of A Return. And/Or Store Credit.
Of course, while you are Returning It All, you spot Those Chanel Sunglasses that were Featured In
Elle Magazine
last month, so you go over to The Counter, just to see what they look like Up Close and, Oh! They Are So Cute! So, you try them on and...
ARRRRGH! Who are we kidding! LET'S WORK TOGETHER TO STOP THIS MADNESS, KATIE!!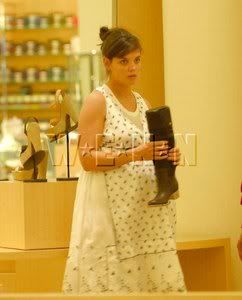 The Preceding Message was brought to you by Shopping Bulimics Anonymous. Remember: The First Step Is Admitting You Have A Problem. And By Problem, we don't mean, You Have Nothing To Wear With That Fabulous New Skirt.

By the way, That Skirt really is Fantastic. Tell me...Where did you get it?