Okay. So this week, I am A Little Tardy with my Weekend Update. But, I have been Very Sick and Very Busy. The Middle School Musical is in Full Swing and I have been Inundated with questions from Students during Recess. (Favorite Question So Far: Where does
Oklahoma!
take place, Miss The Daily Randi?") And I have had Lots Of Paperwork to do and I Desperately Need To Find A Rehearsal Pianist and Totally Awesome Boyfriend is Sick now, too, because I Got Him Sick and I am trying to Move and looking at Apartments and
American Idol
is On tonight so now I Won't Get Anything Done. Eh, The Weekend was pretty Mellow, anyhow.
Friday was Totally Awesome Boyfriend's Sister's Birthday. She had A Dinner Party and even though I had Called Out Sick From Work The Day Before because I Couldn't Stop Sneezing, Coughing, and I Had No Voice, I managed to Make It To The Birthday Festivities that evening. It was Very Nice. We ate A Delicious Meal, I had Lovely Conversations with some of Totally Awesome Boyfriend's Sister's Friends, and I got to Check Out The Dining Room Table Totally Awesome Boyfriend had mentioned His Sister wanted to Bestow/Donate/Dump Upon Us in favor of A Nicer, Newer Table. It was A Fun Time. More importantly, The Table is Really Great, We'll Take It. I brought over Delicious Cupcakes because Cupcakes Make People Happy, from This Bakery In Studio City That I Happened To Pass By, called
Big Sugar Bake Shop
and They Were A Huge Hit! Seriously – these were Tasty Cupcakes! Outside of A Cute Boy, I have never brought Anything To Someone's House For A Party that got so many people Raving and made me So Popular. So, um, if you like Cupcakes and Instant Popularity, Check This Bakery Out!
Happy!
Saturday afternoon, I had Lunch with Hilary of
Superjux Fame
! We decided to Check Out
Grub
because Betty On
Top Chef
owned it!
This is Betty!
I got Yummy Blueberry And Raspberry Pancakes, only because The Tomato Soup that Betty made on the show, like One Million Times, was Sold Out. The Food was Really Good and Betty was In The Kitchen, Cooking It! We even drove there in My Silver Toyota Rav 4! It was just like we were On
Top Chef
. Only, minus like, Any Cameras and Stuff. And, No One Eliminated Us. Oh, and No Sign Of That Weasely Marcel…
Saturday Night, Totally Awesome Boyfriend and I stayed Home and Played Scrabble and watched Chris Rock's HBO Special. We Laughed, except that It Hurt Our Throats Because They Were Both Still Very Scratchy.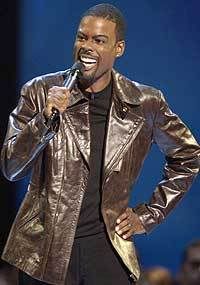 His Voice is Naturally Scratchy!
And on Sunday, I Worked.
See? Now I bet you are Not So Annoyed With Me for Not Posting Sooner. My Weekend was Super Stupid! I will try to have A Much More Exciting Weekend next time for you all.
Regardless, I present An Exciting Slide Show Of My Super Stupid The Daily Randi Weekend for your Viewing Pleasure. The Best Part of This Slide Show is The Super Stupid Weekend literally Flies By. As usual, Please Enjoy.